The way truck drivers communicate has changed drastically from the years of them having to use land lines to call home, finding their next load at a truck stop load board and navigating their routes via paper maps. KJ Media conducted a survey to our driver database (Truckinggetsocial.com) and found that over 95% of drivers have smartphones.
Truck drivers are utilizing smartphones to help them succeed on all fronts, both personally and professionally and they have changed the way people interact with drivers. Smartphones allow drivers to stay on top of their business as well as staying in touch with their families and friends while they are on the road.
Smartphones also enable drivers to have information available to them at any time. There are apps to help drivers with their trip planning, find a truck stop, log book apps, GPS and traffic apps, etc. There are so many applications out there that are available to drivers to help them improve their jobs on daily basis.
Smartphones are also a great way to help when recruiting drivers. KJ Media's survey also conveyed that 67% of drivers use their smartphones when looking for a new opportunity. Companies looking for drivers should consider implementing a mobile campaign that places their company information where drivers are looking. Having the ability to reach drivers through their smartphone is a great way to get your company information in front of these prospects.
When drivers are looking for a new job it often involves a personal decision or reason. Drivers are most likely to use their personal smartphone when they begin their search for a new position. A well run mobile campaign will place your company in front of drivers that are actively seeking a new position.
Partial Results Below from Driver Recruiting Survey: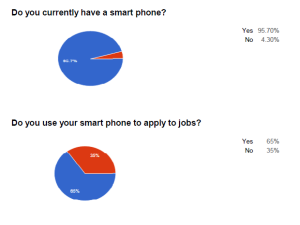 As a marketing specific to the transportation industry and specializing in helping companies recruit and retain drivers via online marketing, KJ Media understands the tools required to run a successful recruitment campaign. These tools include website development, social media, email marketing, lead pages, google ads and our website Trucking Get Social (www.truckinggetsocial.com) which is dedicated to our driver 100k+ driver following.
KJ Media is one of the best driver recruitment marketing companies in the industry. We will collaborate with you and your team to build a campaign that will illustrate your company's core values, setting you apart from your competitors and allowing drivers make a personal connection with your company. Contact us today to a free consultation.
Article by Kelly Maddock of KJ Media